Needham, MA Lawn Installations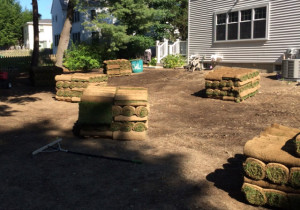 Installing a new lawn is a project that needs to be done professionally in order to achieve the best results. Colonial West Landscaping has the experience and equipment to help from start to finish. The process is started by evaluating the conditions and elevation of the landscape. Determining dranage and total square footage is important.
We can provide complete renovation of an unkempt yard that is beyond the point of just reseeding. Colonial West can rip up and replace entire yards with top of the line seed and starter fertilizer, or sod. We can also fix patches, or dead spots in an existing lawn. Call us to have that beautiful lawn you have always wanted.
Free Estimates
CWL is happy to provide free estimates on all services to businesses and residents of Needham.